Yates Split:
Day 1: Shoulders, traps, triceps, abs
Day 2: Back, rear delts, lower back
Day 3: Off
Day 4: Chest, biceps, abs
Day 5: Quads, hamstrings, calves
Day 6: Off
Day 7: Off
Dorian's Blood & Guts video may be the most viewed workout video of all time. I actually met a guy who said he watched it four thousand times... I don't know how he got that number, but it is a great video!!! What's different from this video compared to all others is that it's as real as it gets... no second takes, no talking to the camera while working out making goo-goo eyes trying to look cool. Just a guy with only one concern. The opening narrator says it best in the beginning of the workout sequences...
"...His aim is to promote the greatest amount of stress on the muscle, not to exercise his ego and use immense poundage's and sloppy form."

This video could be used as a video guide for textbook form, with the exception of a few movements that are started with a little body english... this is how we were originally all taught how to lift. Full range of motion using reasonable weights that we can handle in proper form. I'm sure everyone reading this has a few guys in their gym who load the leg press to the max and set the backboard really high so they only have to move the weight a few inches down, then get up and scream in their training partners face. Well, try lightening the load a couple hundred pounds with the backboard set as low as it can go and lower the weight all the way down... yea, different feeling!! This video serves as a great reminder that there are a small percentage of guys who take form very seriously, and that it's not about moving a weight from point A to point B... but working the muscle to it's fullest.
Also, what is different from Dorian compared to other Pros that you may read about is that he practices what he preaches. You can actually go right along and watch this video with his "A Warriors Story" book, bodypart by bodypart throughout the video and get a good understanding of his approach. His training dictates that he builds up to one maximum set using all out intensity going to failure and beyond. What is misunderstood about this approach is that he does several warm-up sets, but that he only regards the last and final set as the most productive. So really what he is doing may not be all that different from most, but it's that he is deliberately regarding that final set as the most productive and the one that will trigger the growth. It is a very interesting concept that is worth researching because it takes out the pacing dilemma that a lifter may get while doing 4 work sets... what are the work sets? Are the first three really your work sets or are you subconsciously pacing yourself waiting for that fourth and final to go all out?
Recuperation is a huge part of Dorian being able to apply himself with so much intensity in the gym. The rest days give the lifter a break mentally and physically to come back for another balls to the wall session. And it's also worth another reminder that we grow outside the gym and not in the gym, and that we could all learn from the "get in and get out" approach that he followed. Dorian's split during this time period is something like the below, note the 2 on, 1 off sequence... this is highly recommended for anyone who may be used to training five or six days in a row. There's your new supplement, a couple more rest days...
Chest/Biceps
Legs
Rest
Back/Rear Delts
Shoulders/Triceps
Rest
Repeat cycle or another rest day if needed...
Be sure to check out http://www.dorianyates.net for DVD information if you are interested, as well as his book "A Warriors Story". He has another book, but it's out of print. It sometimes shows up on E-Bay though, it's called "Blood & Guts". In closing, what better way to hear his training methods than coming straight from the man... below is a collection of bodypart training recommendations from the pages of Flex Magazine is Dorian's Q & A section "Ask Dorian" -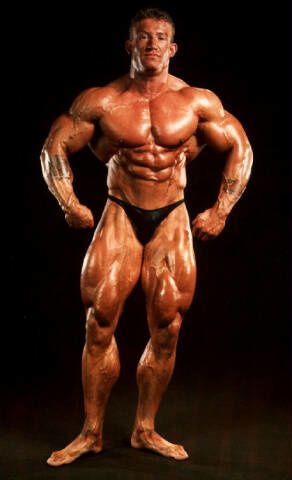 CHEST WORKOUT

Exercise
Sets * Reps * Poundage
Incline Barbell Press
1 * 12 * 135
1 * 10 * 220
1 * 8 * 310
1 * 8 * 425
Hammer Strength Seated Bench Presses
1 * 10 * 220
1 * 6 - 8 * 350
Incline Dumbbell Flys
1 * 10 * 2 x 75
1 * 8 * 2 x 110
Cable Crossovers
1 * 10 - 12 * 2 x 90
* Warm - up Set

BICEPS WORKOUT

Exercise
Sets * Reps * Poundage
Incline Dumbell Curls
1 * 10 * 2 x 50
1 * 6 - 8 * 2 x 70
EZ - Curl Barbell Curls
1 * 10 * 100
1 * 6 - 8 * 140
Nautilus Curls
1 * 6 - 8 * 120
* Warm - up Set

QUADS, HAMSTRINGS and CALVES WORKOUT

Exercise
Sets * Reps * Poundage
Leg Extensions
1 * 15 * 130
1 * 12 * 200
1 * 10 - 12 * 270
Leg Presses
1 * 12 * 770
1 * 10 - 12 * 1265
Hack Squats
1 * 12 * 440
1 * 10 - 12 * 660
Lying Leg Curls
1 * 10 - 12 * 130
1 * 8 - 10 * 350
Stiff - Legged Dead Lifts
1 * 8 - 10 * 350
Single - Leg Curls
1 * 8 - 10 * 50
Standing Calf Raises
1 * 10 - 12 * 900
1 * 10 - 12 * 1300
Seated Calf Raises
1 * 10 - 12 * 250
* Warm - up Set

BACK and REAR DELT WORKOUT

Exercise
Sets * Reps * Poundage
Hammer Strength Pull downs
1 * 15 * 135
1 * 12 * 320
1 * 8 - 12 * 285
or Alternate Each Workout
Nautilus Pullovers
1 * 15 * 220
1 * 12 * 320
1 * 8 - 10 * 440
Barbell Rows
1 * 12 * 285
1 * 8 - 10 * 375
Hammer Strength One-arm Rows
1 * 8 - 10 * 245
Cable Rows (overhead grip)
1 * 8 - 10 * Full Stack
Hammer Strength Rear-Delt Machine
1 * 8 - 10 * 2 x 55
Bent - over Dumbbell Raises
1 * 8 - 10 * 2 x 95
Hyperextensions
1 * 10 - 12 * 40
Deadlifts
1 * 8 * 310
1 * 8 * 405
* Warm - up Set

DELT and TRAP WORKOUT

Exercise
Sets * Reps * Poundage
Smith Machine Presses
1 * 15 * 120
1 * 12 * 240
1 * 8 – 12 * 340
Seated Laterals
1 * 12 * 2 x 50
1 * 8 - 10 * 2 x 70
One - arm Cable Laterals
1 * 20 * 35
1 * 8 - 10 * 70
Dumbbell Shrugs
1 * 12 * 2 x 140
1 * 10 - 12 * 2 x 185
* Warm - up Set

TRICEPS WORKOUT

Exercise
Sets * Reps * Poundage
Triceps Pushdowns
1 * 15 * 80
1 * 12 * 130
1 * 8 - 12 * 180
Lying EZ - Curl Barbell extensions
1 * 15 * 100
1 * 8 - 10 * 140
* Warm - up Set

Bio : http://www.bodybuildinguniverse.com/dorian.htm
DVD : http://www.mesomorphosis.com/store/videos/dorian-yates-blood-and-guts.html
Gallerie : http://www.athlete.ru/photogallery/profi_dorian.htm


Dorian Yates 6x Mr Olympia 1996 German Gran Prix