Arnold confidential: uncovering the real Arnold Schwarzenegger Flex, Sept, 2004 by Shawn Perine In poll after poll, Arnold Schwarzenegger has been identified by bodybuilding fans as their sport's greatest champion. The margin of his victory is never small. In fact, in a FLEX readers' poll published in our September 2000 edition, Arnold gathered 44% of the total vote, with his closest rival, Dorian Yates, accumulating 12%. With poll after poll resulting in landslide victories for the Austrian Oak, the question arises: How did Arnold Schwarzenegger transform himself from a skinny frail boy into the world's most popular bodybuilder? What made him so special? In these 20 pages, we will attempt to identify the specific reasons for the unparalleled success of Arnold Schwarzenegger. We will present facts regarding his heritage and upbringing, analyze his training and dietary strategies, profile his psychological makeup, and examine the support system that enabled him to pursue his dream of becoming the world's best-built man. In the end, we hope to determine whether Arnold's physical achievements came as the result of nature or nurture, strategy or luck, or equal parts of each. Moreover, we will attempt to map out his winning formula clearly and concisely so that you, the FLEX reader, can use it as a template for your own bodybuilding goals. In other words, we'll do our best to capture lightning in a bottle. How to utilize that power is up to you. SECTION 1 : Early Influences DATA * Arnold Alois Schwarzenegger was born July 30, 1947, in the hamlet of Thal bei Graz, Austria, to Gustav and Aurelia Schwarzenegger, one year after his only sibling, Meinhard (who died in a car accident in 1971), was born. * World War II had ended two years prior to Arnold's birth, and Austria was getting its first taste of democracy since the Anschluss (in which Hitler annexed Austria as a German province) in 1938. Austrian national pride was at an all-time high, and the ideals of self-reliance and intestinal fortitude had become national imperatives. * At the time of Arnold's birth, Gustav Schwarzenegger, a tall athletically built man, was working as the police chief of Thal. As such, he believed in discipline and order for the town's citizenry and his two sons. From an early age, Arnold learned to obey his father's demands with a soldier's precision. He was also instilled with a feel for competition by virtue of Gustav pitting his sons against each other in various athletic competitions. More often than not, the younger smaller Arnold would finish second, earning the disapproval of his father. * Gustav was also a strong advocate of the Greek ideal "sound mind, sound body." He put both boys on an aggressive regimen of daily exercise--both physical and mental. Each morning, the brothers Schwarzenegger would be made to perform calisthenics before sitting down at the breakfast table. They were also impressed with the importance of being adept in athletics by their father, who had been a curling champion. At an early age, Arnold became involved in a variety of sports, including soccer, track, boxing and swimming. * Gustav regularly put his sons through a battery of mental calisthenics, assigning them essays on topics of his own choosing, in addition to their regular schoolwork. If Arnold failed to meet his father's requirements in either his home or school assignments, he would often be subjected to physical discipline. * Whereas Gustav proved to be a taskmaster, Aurelia Schwarzenegger provided young Arnold with unconditional love and support. Although she supported Gustav in his efforts to empower Arnold, her own approach to his upbringing was softer and, appropriately, more maternal. In later years, Arnold would reflect fondly on his mother's selfless devotion to him, as in the time she trudged through the Styrian woods in the middle of the night, carrying her ill toddler to the nearest doctor--an hour and a half away. * It was as a 15-year-old soccer player that Arnold Schwarzenegger was first introduced to weightlifting in 1962, as a means for building leg strength. With one look at the bodybuilders training at Athletic Union gym in Graz, Arnold knew he was destined to follow their path. It was under the tutelage of older members such as Karl Gerstl and Kurt Manul, who were both around 30, and Helmut Knaur, who was 50, that the teenager learned how to train for bodybuilding. These men would become Arnold's mentors and friends. * At about this time, Arnold discovered bodybuilding magazines, such as MUSCLE BUILDER and MR. AMERICA, and movies featuring physique stars, such as Steve Reeves, Brad Harris and Reg Park. He would go on to use Park as his chief source of inspiration and a role model. So successful was he in emulating the bodybuilding star that in time he would use Park's training techniques to match and exceed his level of development, while forming a longtime friendship with him in the process. * It was through watching Reg Park and others in the day's action films (primarily sword-and-sandal epics) that Arnold came upon the idea of moving to America to become a bodybuilding and movie star. To him, America was a place of limitless possibilities, a place where he could spread the wings he felt were bound by the confines of Austria. * Arnold became compelled by the idea of being powerful, not just physically, but in a holistic way, like a world leader. He thought about becoming just such a person--an icon--and the steps required to get there. Bodybuilding, he knew, was to be more than just his passion. It would be the first step into a life of his making. ANALYSIS * Arnold bears a striking facial resemblance to his mother, but he seems to have inherited his father's proportions, as well as his sense of discipline. * It would seem that Gustav took cues from his military background in the manner he raised and disciplined his sons. Arnold's own legendary ability to focus, manage time and set and meet goals was certainly fostered, if not instilled, by his father. * Arnold was conditioned for competition at an early age. For a child, competing against an older brother can seem like an impossible task. It stands to reason that it was just these matches with Meinhard that gave Arnold the confidence to take on any and all adversaries--from bodybuilder Sergio Oliva to politician Gray Davis. * Aurelia Schwarzenegger's loving touch can be seen in the intense loyalty Arnold has for his friends. Many of his comrades from his earliest bodybuilding days are his confidants today. This ability to form strong bonds with trustworthy people would be extremely beneficial to Arnold as he rose through the bodybuilding ranks (see Section 5: "Support System"). * Arnold surrounded himself with older and more experienced bodybuilders from the start of his own bodybuilding career. Not only did this accelerate his learning curve, it helped him mature quickly, both mentally and physically, in the gym. * Arnold was goal-oriented from the beginning. He looked to Reg Park, not as an untouchable icon, as so many young fans do of idols, but as someone who proved a certain goal could be achieved. And if Reg Park had done it, why couldn't he? * Arnold would create even more impetus for reaching his bodybuilding goals by aspiring to greater heights outside of the sport, with bodybuilding success being the tool to get him there. Coming to America, becoming a movie star and an influential leader--for these destinations, bodybuilding was a means to an end, as well as an end in itself. SYNOPSIS By a unique confluence of world events, geographic location, genetic gifting and behavioral modification, Arnold Schwarzenegger was endowed with a nearly ideal tool kit for entering the world of bodybuilding. It is impossible to overstate the significance these elements had on the formation of the bodybuilder or the man. However, it should be noted that growing up in a hamlet in Austria, Arnold was not exposed to niceties his American counterparts took for granted, such as modern gyms. Yet he turned his disadvantages around by using his circumstances as motivation to get to America. The lesson to be learned is that you, as an individual with your own specific set of influences, need to take the cards you were originally dealt and turn them into a winning hand, as Arnold did.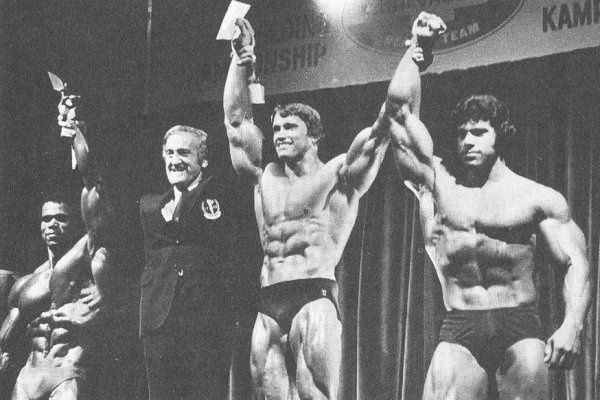 SECTION 2 : Training DATA * Much has been written about Arnold's training methods since he first came to bodybuilding prominence nearly four decades ago. Whether it was his laserlike intensity, dogged determination or steadfast adherence to specific training techniques, the hows and whys of the Austrian Oak's workouts have been the subject of intense scrutiny by all manner of bodybuilder and bodybuilding writer. * From day one, Arnold stood apart from other gym trainers in both his method and his intensity. He relates in Arnold: The Education of a Bodybuilder how, from his very first bodybuilding workout, he attacked the weights with a combination of enthusiasm and ferocity foreign to even the most tenured members of Athletic Union gym. "I loved the feel of the cold iron and steel warming to my touch and the sounds and smells of the gym," he writes. "I started to live for being in the gym." * Arnold's earliest workouts were simple: train the entire body (with limited emphasis on calves) three nonconsecutive days a week. In the early 1960s, even the most advanced machines were rudimentary and awkward to use. As such, bodybuilders relied almost solely on basic free-weight exercises: bench presses, flyes and pullovers for chest; military presses and laterals for shoulders; chinups, barbell rows and deadlifts for back; barbell and dumbbell curls for biceps; close-grip bench presses and French presses for triceps; and squats, extensions and curls for thighs. Situps were the primary abdominal exercise, and calf raises were done on stair steps or blocks of wood. Arnold utilized these basics to kick-start his bodybuilding. They would also serve as the foundation for his training throughout it. * Although Arnold began with a program delineated for him by his gym mentors, he tailored it to his personal preferences as he became more confident in his abilities. In particular, he followed the routines of his idol, Reg Park, as they were published in the day's Weider magazines. Park was a firm believer in basic movements done with the heaviest weight manageable for relatively low (five to 10) reps. Accordingly, Arnold was even further impressed that he needed to stick to core exercises to reach his goal of bulking up to 250 pounds. * Almost from the start, Arnold had enough confidence in his understanding of his body to experiment with training in a less regimented, more instinctive manner. He explains the process in his course book Building the Legs of an Oak. In my early days back in Austria, I would have the weirdest kinds of training sessions. They never followed any accepted form. Everything was done in the truest instinctive way. My training partners and I would decide what bodypart we wanted to work that day and then proceed to bomb it out of existence. * Although Arnold had been baptized on the conventional three-day-a-week system, he felt relatively early on that his body could take more. He increased his workload to six days a week, training bodyparts on alternate days. Commonly known today as a "split routine," this style of training was a new concept in the mid- to late-60s, and one that was perfected, if not pioneered, by the Oak himself. The accompanying sidebar ("Arnold Schwarzenegger's Training Split") shows the six-day split routine he used for the better part of his competitive career. * A typical Schwarzenegger workout would last anywhere from one to more than three hours, with only brief (30-60 seconds) periods of rest between sets. He trained heavy, fast and precisely. His form was loose where he felt it would benefit him, such as when performing barbell curls, but strict at other times, as when doing dumbbell flyes. * Arnold was known to bury more than one training partner with his all-out intensity. In a training article he penned for MUSCLE BUILDER/POWER a number of years ago, he wrote: Whenever I go into the gym for a workout, it is like a boxer at the height of his fury ready to deliver a knockout blow. My mind is focused on bombing that workout with ferocious power and with all the mental and physical energy I am capable of generating. * As for cardiovascular training, Arnold kept it to a minimum. Except for taking leisurely jogs on the beach (which was only steps from the front door to Gold's Gym in Venice), he left the majority of his exercise in the weight room. ANALYSIS * It's clear that Arnold has a head for training. Some people can work out for years and never develop the instinctive understanding of what works for them and what doesn't. Arnold seemed to know right away. * Individuals respond in a wide variety of ways to progressive resistance training. Thus, not every system of training works for everyone. The combination of intensity, speed, duration and frequency with which Arnold trained, coupled with his diet (see Section 3: "Nutrition"), kept him in a metabolic state ideal for building muscle and poor for storing fat. SYNOPSIS Arnold found a training program that fit his mental and physical tolerances like a glove. What's important to note is that he decided to make adjustments to the program prescribed by his mentors almost from the outset. You, too, need to gauge the way your own body responds to any given program and make adjustments accordingly. Some people, like Arnold, thrive on high volume. Others do better with high intensity (low number of sets to failure). Each person's unique physiological makeup will determine the type of program best suited for his specific needs. Do not be afraid to experiment with a variety of set/rep schemes, splits and bodypart groupings. Arnold did just this to eventually come upon a program that would serve him well throughout his professional bodybuilding career.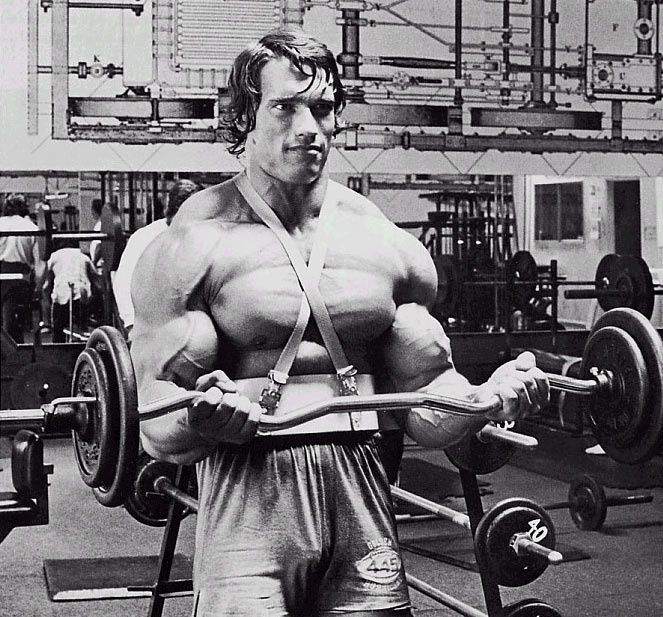 SECTION 3 : Nutrition BY STEVE STIEFEL, NUTRITION EDITOR DATA * From the earliest files on his nutritional advice, Arnold has said that the average person needs one-half gram of protein per pound of bodyweight per day, but that a bodybuilder should consume at least one gram of protein per pound of bodyweight each day. In the 1970s, and even earlier, he recommended animal protein sources, such as eggs, fish, meat and dairy products, as the best protein foods for bodybuilders. * Arnold emphasized the importance of whole foods as the main source of vitamins and minerals in his diet. In addition, he took vitamin and mineral supplements as a way to bolster the nutritional content of these foods, particularly during phases of intense training or growth, when the body's needs for nutrients are increased. * Arnold ate six meals a day during his bodybuilding career. His daily meal plan of choice in the '70s consisted of three large whole-food meals alternated with three whole-food snacks. The total calorie count for his weight-gaining diet was 5,000 a day, which included 300 grams of protein. * Protein shakes, composed of ingredients available at the time, were always part of Arnold's nutritional plan. His mix of choice was two glasses of milk, 1/2 cup of nonfat milk solids, one egg and 1/2 cup ice cream, all mixed in a blender. These protein drinks often replaced smaller whole-food snacks. * Nutritional consistency was the cornerstone of Arnold's dietary plan. He preached following a dedicated bodybuilding nutrition program, and he made certain to get in all the protein, calories and nutrients needed every day. ANALYSIS * Arnold's nutritional advice from as early as the '70s is still in sync with the gold-standard recommendations that FLEX makes today. Although Arnold had a solid grasp of the bodybuilding nutritional science of the time, even more important were his instincts and powers of observation. Much of what we know about nutrition today was not known--or widely acknowledged--in Arnold's heyday. Much of Arnold's nutrition program that was questioned at the time was later proved to be accurate, both in terms of the broad strokes of his diet and in its specifics, such as protein consumption and macronutrient ratios. * In almost all the data available about Arnold, he acknowledges the importance of bodybuilding nutrition, but he does so with less enthusiasm and specificity than he does with training. Nutrition can be the weakest link for many bodybuilders, but that simply wasn't the case with Arnold. He understood the basics of nutrition, and he took care of those so capably on a daily basis that he did not emphasize them as much as many bodybuilders have or as much as Arnold himself emphasized training. Perhaps this is because Arnold's nutritional instincts were dead-on and, because he was so much ahead of the curve compared to his peers, he did not need to focus as much on nutrition strategies in his books and interviews. * Supplements are just that. Arnold always supplemented with protein, vitamins and minerals, while relying on basic foods for the bulk of his nutrients. Although his idea of a protein shake was somewhat different than ours is today, the concept was the same. Back in Arnold's day, protein shakes tended to be unpalatable low-grade powders that a trainer mixed with foods such as milk, eggs and bananas. Today's shakes contain more effective protein powders for muscle building. Nevertheless, Arnold believed in taking in liquid protein calories as a way to boost muscle building. * Arnold was wrong about very few things. He understood the importance of fats, and although he recommended many good sources, such as nuts and healthy oils, he also recommended mayonnaise, which is high in saturated fats. Still, he may be proved right in the future. Saturated fats are important for increasing such hormones as testosterone, and their reputation as an unhealthy forbidden food is beginning to shift in bodybuilding circles. SYNOPSIS Arnold's nutrition plan of the 1970s was basic and on target, even when taking into account all that we have learned about bodybuilding nutrition since Arnold's era. His nutrition program lacked only sophisticated supplements, simply because they were unavailable. Contemporary science--such as the recently realized benefits of creatine and glutamine--might have given Arnold more of an edge and might have improved even his physique. Still, it's safe to say that no matter the era, no competitor could have gained an edge on him from a nutritional standpoint. Arnold's nutritional instincts, knowledge and application demonstrate he would have made the most of his nutrition program, regardless of the times in which he competed. As he put it, "Exercising without eating the proper food is like plowing a field and not putting any seed into the ground--nothing would grow out of it."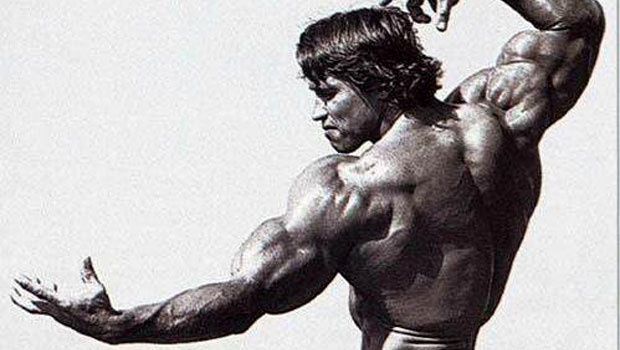 SECTION 4: Psychology DATA * Bodybuilders have known it for decades. The entertainment industry learned it, too. Political pundits first scoffed at the notion, but they are quickly becoming true believers. What eventually becomes blazingly evident to all who come into contact with Arnold Schwarzenegger is that he is an almost preternaturally focused, driven, confident, organized and goal-oriented person. He is lit from within by a fire to succeed as rare as it is invaluable. Indeed, Arnold, in The Education of a Bodybuilder, credits this unique gift for a good deal of his own bodybuilding success. I questioned myself: Why you, Arnold? How did you win Mr. Universe after only five years of training? Other people asked me the same question. I began looking at the difference between me and other bodybuilders. The biggest difference was that most bodybuilders did not think I'm going to be a winner.... They had a hazy picture of what they wanted to look like someday, but they doubted they could realize it. That destroyed them. It's always been my belief that if you're training for nothing, you're wasting your effort. * Unlike daydreamers with whom he shares visions of future glories, Arnold has the ability to focus his gaze on the here and now, to wrap his head around the moment, because he realized that each moment is a building block of the future. For young Arnold, this meant concentrating on his muscles themselves, even when not training. ... My mind was always in touch with my body; I felt my muscles continuously; I always took an inventory before working out. That not only helped me train; it was like meditating. I locked my mind into my muscle during training, as if I'd transplanted my mind into the tissue itself. By just thinking about it, I could actually send blood into a muscle. * Once Arnold entered the gym, it was all business, which, Arnold noted, was not the case for many of his peers. Bodybuilders ... thought if they did the same exercises I did they would get the same kind of muscles. But I watched them fall away with absolutely no results except exhaustion.... I knew the secret:Concentrate while you're training. Do not allow other thoughts to enter your mind. * Arnold's intensity on the day of a competition is the stuff of legend. He's consistently spoken of his ability to psych out his fellow competitors, most notably in the film Pumping Iron. In some cases, it was this ability to not just believe--but to know--he was going to win a competition that carried him to victory. Such was the case in 1970, when he won the first of his seven Mr. Olympia titles, defeating his nemesis, Sergio Oliva, in the process. The prior year, Sergio had done to Arnold what had never been done before or since. He out-psyched Arnold, simply through his monstrous presence. But after a solid year of diligent training, Arnold had not only radically altered his physique but restored his confidence levels enough to challenge "The Myth" in earnest. In the dressing room, Sergio was already pumping up. I didn't take my eyes off him. But I didn't even make a move to change. I just watched him. I followed each move he made with my eyes. He'd pause and look around at me, to see if I'd started to strip down. I knew it was getting to him. * There exist endless examples of ways Arnold Schwarzenegger has employed the power of positive thinking to achieve goals, both within bodybuilding and outside of the sport. It's likely he'll use this philosophy for many years to come and see many more dreams realized as a result. ANALYSIS * Arnold is a winner--pure and simple. Losing has never been an option and never will be. He is the epitome of all that self-help experts, ranging from Norman Vincent Peale to Anthony Robbins, espouse. In fact, the Robbins saying, "There is always room in your life for thinking bigger, pushing limits, imagining the unimaginable," could easily be heard coming from the lips of Schwarzenegger. Arnold's description of his mindset when training his biceps is a perfect example of that philosophy. "I remember when I would train my arms, I wouldn't just think of building them to 22"," Arnold once said in an article he penned. Rather, he imagined them filling the room. * Great men from all walks of life seem to agree on one thing. To become a success in life, you must think like a winner; let motivation guide your actions, not fear. Arnold has followed this line of reasoning and boundless rewards have fallen upon him as a result. SYNOPSIS Let Arnold sum up his overarching philosophy of life himself: For me, life is continuously being hungry. The meaning of life is not simply to exist, to survive, but to move ahead, to go up, to achieve, to conquer. Follow Arnold's lead. It is possible for every person reading this to follow his formidable footsteps. To help you get started, you might even envision yourself as Arnold. Emulate the aspects of him you admire most, just as he did Reg Park. Envision how he would act, or react, in a particular situation. The best way to become a positive thinker is to follow the lead of positive thinkers who have gone before you, and in all of history there have been few who have done a better job of turning their dreams into reality than Arnold Schwarzenegger did.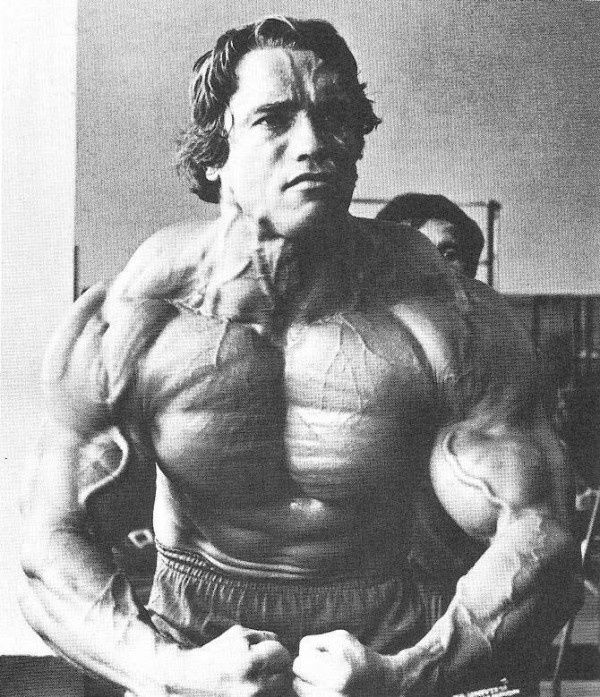 SECTION 5: Support System DATA * Arnold has more friendships spanning three and four decades than some people have friends. He tends to form long-lasting alliances and shows a level of loyalty to those friends that is exceedingly rare, especially in the entertainment industry, where he has been an icon for many years. * One of his longest-lasting friendships is that with fellow bodybuilder Franco Columbu. Franco and Arnold met in Munich at a competition in 1965, and they hit it off almost immediately. In Franco, Arnold saw someone who shared his focus and determination, but who was as bighearted as he was good-natured. At various times, the two men lived together, traveled together, trained together, ate together and competed against each other. Franco was Arnold's best man at his wedding and, to this day, they get together on a regular basis to challenge each other in another field of competition: chess. * When Joe Weider brought Arnold to the United States, it signaled the start of a relationship that could be described alternately as father and son, master and pupil, business partnership and pure friendship. It was the Weider magazines that first pushed the young bodybuilding star into international prominence. Conversely, it was Arnold's presence in those magazines that helped turn a modest publishing company into an industry leader. Arnold's feelings for his old friend are still as evident today as ever. At a recent gala held in his honor, the governor of California, after delivering a speech before some 2,000 Republican luminaries, made a beeline to Joe's table to thank him for attending. * The list of longtime friends is extensive, including, but by no means limited to, Albert Busek, Franco Columbu, Jim Lorimer, Sven Ole-Thorsen, Art Zeller and Joe Weider. He met all of these men through bodybuilding, and all of them continue to influence his life as Hollywood star, California governor and cultural icon. * Arnold's greatest support continues to come from his wife, Maria, and their four children: Katherine, Christina, Patrick and Christopher. In a testament to the importance he places on his relationships, Arnold's marriage to Maria has spanned nearly two decades--a rarity in Hollywood, which had been his domain through the bulk of it. He said before entering the governor's race that he would do so only with his family's full support. Not surprisingly, he received it. ANALYSIS * Despite his numerous long-term relationships, Arnold does not enter into friendships flippantly. A gregarious person by nature, he is also extremely aware of his standing in relation to others and steers clear of those who could do him harm. He does not suffer fools gladly, as he makes evident in Pumping Iron, when he relates the story of the cocky bodybuilder who came to him for a winning edge. * Arnold has great respect for character. * As does any success-oriented person, he surrounds himself with like-minded people. In addition to this making for easy communication of thoughts, it engenders a symbiotic relationship of sorts. Arnold's friendships have benefited him on a number of levels, just as they have his friends. Here are a few examples. 1 Franco Columbu was an excellent training partner for Arnold, pushing him to new heights in the gym, thanks to his great strength. 2 Albert Busek, German publisher, photographer and gym owner, took 18-year-old Schwarzenegger under his wing when the protege moved to Munich in 1965. He is a lifelong friend and confidant. 3 Joe Weider served as a perfect role model from which Arnold could learn the basics of business. He credits Joe with giving him the foundation of knowledge with which he became an entrepreneur. 4 Photographer Art Zeller (who died in 1999) guided Schwarzenegger when he arrived in California, helped him learn English and made his transition to American culture smoother. 5 Jim Lorimer, a seasoned businessman, helped turn Schwarzenegger's first attempts at contest promoting into lessons in success. SYNOPSIS Arnold values his personal relationships highly. From bodybuilding friend Franco Columbu to Hollywood pal Danny DeVito to wife Maria Shriver, each person in his private life has been integral to his success and appreciated wholly for their support. Like Arnold, learn to form bonds with people who will only enrich your life, not detract from it. In bodybuilding, it sometimes seems there are a disproportionate number of negative people who would sooner see you fail than surpass them. Steer clear of such negative energy and surround yourself with people who have the self-confidence to encourage your efforts while supporting their own. When it comes to choosing a training partner, treat the task with the same standards you do your friendships. As Arnold puts it, the rule is a very simple one, and one that can be applied to every relationship in your life. "A training partner who helps you make faster and better progress is a good one; a partner who holds you back in any way is a poor one," he says. By following Arnold's lead, you too can build a support team that will help you grow, literally and figuratively.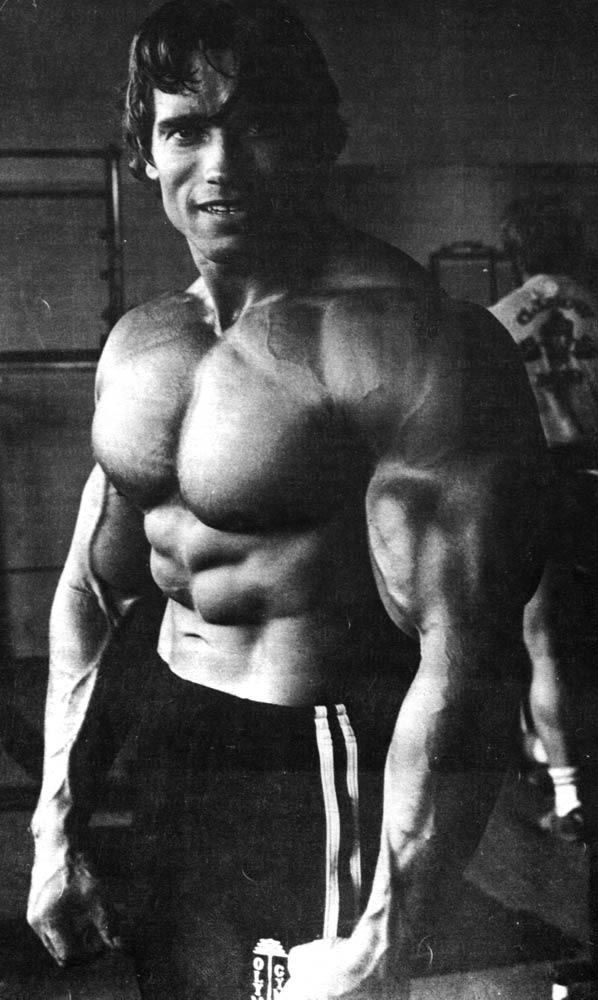 SECTION 6: Conclusion In this article, we've attempted to summarize the elements of bodybuilding's greatest champion. Of course, for a man of Arnold Schwarzenegger's depth, this is like trying to dig to Earth's core with a plastic spoon. Nevertheless, we feel we've been able to isolate the key elements that, working in tandem, were instrumental to Arnold's success as a bodybuilder. Here they are in a bullet-point list. It is difficult, if not impossible, to calculate what percentage each element in that list contributed to his overall bodybuilding success. There's no question genetics are the first big hurdle any prospective bodybuilder must clear, and they are the one piece of the puzzle over which you have zero control. However, bodybuilding is rife with tales of genetically gifted individuals who never came close to reaching their full potential because they lacked the necessary drive. Likewise, there are those champions, such as Larry Scott, Franco Columbu and Rich Gaspari, who may not have been bequeathed the gift of perfect structure, but who have maximized their potential to become bodybuilding superstars. The point here is that to work toward an Arnold-like physique, you need to focus on that which you can change. Practice developing his laserlike focus when training--don't just lift weights, build muscle! Clean up your diet and apply Arnold-type discipline to your eating habits. See your goals clearly laid out before you and then go ahead and achieve them. Surround yourself with other smart, focused and positive people. Do these things in earnest and await the results. They will come. Arnold Schwarzenegger is a one-in-a-million phenomenon. Even in the bodybuilding "dark ages" of the early 1970s, he managed to build a physique that compares favorably with those of today. And although there can never be another Arnold, there's always room for the next bodybuilding icon to emerge, from any point on the globe. Now, with the same tools he employed throughout his bodybuilding career at your disposal, who's to say that person couldn't be you? ARNOLD SCHWARZENEGGER'S TRAINING SPLIT ---------------MORNING-------------EVENING Monday------Chest/back*----------Forearms Tuesday------Shoulders/traps------Biceps/triceps* Wednesday--Quads-----------------Hamstrings Thursday-----Chest/back*----------Forearms Friday--------Shoulders/traps------Biceps/triceps* Saturday-----Quads------------------Hamstrings Sunday-------Rest NOTE: Calves and abs are worked every evening. * Chest/back and biceps/triceps are superset.